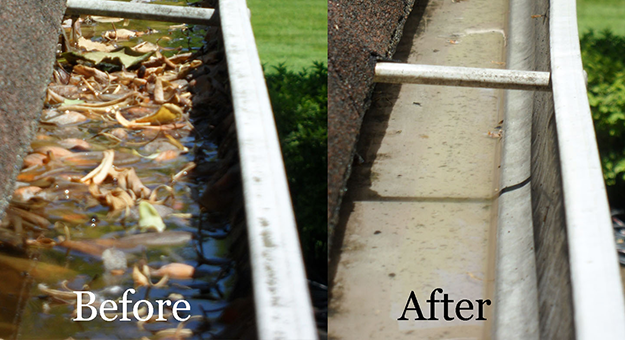 Gutter cleaning is dangerous mainly because of the high heights involved. Gutters are at the highest point of your house, and you definitely to devise an excellent way to reach them without compromising on your safety.
Homeowners prefer outsourcing gutter cleaning to the best contractors primarily because of the risks involved in the task. Since these experts are equipped with current technology equipment, they can clean your gutters spotlessly regardless of high your roof is.
If you plan to do the cleaning for yourself or a cleaner who is getting started in the field, there are safety precautions to note during gutter cleaning.
Practicing Ladder Safety
Do not use a weak ladder
To ensure your safety during the cleaning, you need a stable and robust ladder. You will also need assistance from someone to hold the ladder at the bottom, especially if you do not trust its stability. Before climbing, inspect the ladder and fasten all loose screws and joints.
Do not overstretch to reach a far end
While cleaning, you might assume that you can remove dirt that is somewhat far. It is a dangerous assumption as you can fall from the ladder easily. Always move the ladder to another pot instead of overreaching.
The rule of three
The rule of three on ladder safety dictates that you should keep your both feet and one hand all the time. Which means you work with only one hand.
Wear Protective Gear
Wear goggles
Your eyes are the most sensitive part of the body. You need to wear protective goggles that safeguard them against dirt or flying insects.
Hand gloves
Wear hand gloves to protect our hands from bacteria or thorns from the twigs.
The right shoe
Rubber shoes are the most recommended while climbing up the ladder because it is not easy to slip while in them.
Working Near Power Lines
Do not attempt to work near power cables that are exposed or are hanging loose. If you notice any suspicious signs on your electricity cables, call an electrical contractor to fix them before you start the cleaning.
Hiring Pros in Pleasanton, CA
If you feel overwhelmed and doubt that you can do the job perfectly, then look for the best gutter cleaning contractor near you. And Greeworld GutterCleaning Services is your top consulting and cleaning company. Look no further, call us on (925) 900-5861, and we will be happy to take up the job. Feel free to ask our team of experts any questions and for the right recommendation on anything regarding gutters.